We developed our authorial Bandersnatch-like, interactive format for keynote presentations.
Audience gets access to the dedicated polling mobile website.
Storyline in the presentation is split into parts. After each of them, we present possible further directions and ask audience members, in which one should we proceed.
Therefore, they have a direct impact onto the presentation's flow.
Got bored of one-side interaction during the presentations?
Want to deliver an engaging and unexpected experience at your conference or in your company?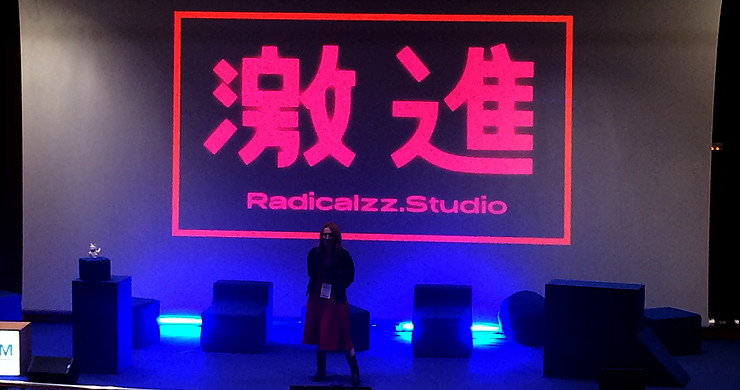 Upcoming
06.07.2019
Opener Festival
The Future of Europe
Discussion panel
Gdynia, Poland
27.07.2019
Audioriver Festival
The Future of Music Industry
Discussion panel
Płock, Poland
Past
18.06.2019
Creative Disruption- Retina by El Pais
Opening Keynote
Madrit
08-09.06.2019
Element Talks
Opening Keynote "The Future of Graphic Design"
Warsaw
18.05.2019
Polish-Japanese Academy of Information Technology
Lecture & Workshop "Democratizing the Future Design"
Warsaw
09-10.05.2019
The Next Web
Round Table Session
Amsterdam
05.04.2019
Future Museum Nuremberg
Discussion Panel with Dr. Anderas Gundelwein
Warsaw Goethe Institute Warschau
04.04.2019
Personal Democracy Forum
Workshop: "Future Citizen"
European Solidarity Centre Gdańsk
21.03.2019
IAM Week 2019
Lecture: "Solar Punk and Digital Ecology"
Barcelona
December 2018
Aula Kraków
Lecture: "Designing The Future Experience"
Uniwersytet Jagielloński Audytorium Maxium
December 2018
Designing the Future: Food
Smolna8Studio
November 2018
Reuse, Remix, Recycle
Narodowy Instytut Audiowizualny
Discussion Panel
November 2018
TW!ST'18
Brain Embassy
Lecture "How to prepare ourselves for the future challenges that are coming"
November 2018
Transformator Innowacyjności
SWPS
Lecture "Wszystko juz było"
November 2018
Ladies that UX
Blueberry
Lecture + Workshop: "What forces drive us into The Future"
November 2018
Aula Poland
Google Campus
"Designing The Future Experience"
August 2018
Element UX Talks
"Designing The Future Experience on example of self driving cars"
August 2018
Saatchi&Saatchi
Workshop: Creative Storytelling in Big Data
August 2018
Digital Cultures
with Platige Image
"Museums 2030: Designing The Future Experience"
June 2018
Cannt Festival Saatchi&Saatchi
"How to prepare ourselves for the formidable technological challenges that are coming"
May 2018
Re:Impactor Rzeczpospolita
"Education as the key to sucess in bulding future cities"
December 2017
UNESCO MGIEP
"Imapct of the Maker Movement into Developing skills for the future"
November 2017
World Usability Day
"How to Design The Future with kids"
September 2017
TechFestival
with hi.codes
"Making The Future"